THE STORY OF V-17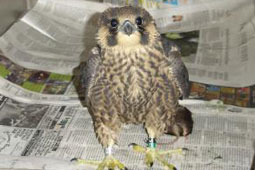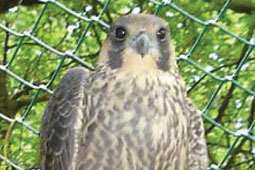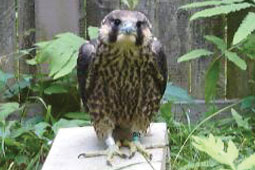 These photographs are of V-17, a peregrine falcon hatched on the Traveler's Tower in Hartford, CT in 2007. V-17 left the nest a few days before expected and was unable to get out of harm's way in downtown Hartford. He was brought to Horizon Wings for a few weeks of rehab and released at our center.


These photographs were taken from the Traveller's web-cam. As only one of the four eggs hatched, we know these are pictures of V-17.

Peregrine Falcon
A peregrine falcon we rehabbed after he flew into a greenhouse, which resulted in a broken wing. He was banded and released in Killingly, CT.


Peregrine Falcon
On September 24 this peregrine falcon was found entangled in netting at a golf course in Somers, CT. Upon arriving at Horizon Wings for rehabilitation, Mary-Beth Kaeser discoverd an old break to its right ulna. After successful surgery and rehabilitation, the falcon was released on November 6.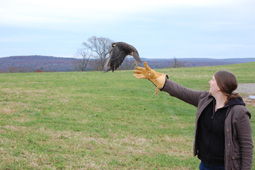 Peregrine Falcon
Volunteer Brenda Lyons releasing a peregrine falcon that had undergone surgery on its wing.


American Kestrel
A male American kestrel being released in
Coventry, CT.


American Kestrel
These two kestrel nestlings were brought to Horizon Wings after their mother was found outside their nest box with a wound to her chest. It was decided that their best chance for survival was to be brought into rehab with their mother. All three birds were released at their nest site. The picture on the right is of the mother with her male fledgling.


Merlin
A merlin being released at E.O. Smith High School in Storrs, CT.