Donations
Horizon Wings is a small, privately-owned, non-profit organization funded by providing educational programs and by out-of-pocket expenses. All money and materials donated to us goes solely to the care of the birds in rehabilitation and or program birds. Some of the items we are currently in need of include:
Portable Microphone
Stamps
Gallon Ziplock Freezer Bags
Vinyl Gloves
Paint Supplies (rollers, brushes)
Copy Paper
Bushes and trees for aviaries
Lumber
Hardware Cloth
Pea Stone
Pressure Washer
Power Tools
(preferably cordless)
Cleaning Supplies
(paper towels, garbage bags, disinfectants)
8' x 10' Shed
Monetary donations are also greatly appreciated and are tax deductible.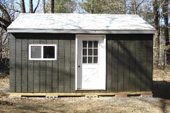 Because of a very generous donation from Joseph and Mary Mersereau, we were able to build this outbuilding, which we use for the care of rehab birds before they are ready for outdoor flight cages. The donation was made in the memory of Joseph's brother, Gerald Mersereau, who banded over 8,500 raptors as a volunteer for the U.S. Fish and Wildlife Service.


We appreciate the efforts made by Paulien Rorick of Studio P Graphic Design in volunteering her time to redesign our website.

Volunteering
Horizon Wings also values dedicated people willing to volunteer their time helping out at the center. Volunteers help with cleaning cages, feeding and watering birds, and helping to build new cages and maintain existing ones. Maintaining the grounds is also a never-ending task.
Very dedicated volunteers will also have the opportunity to help on educational programs and participate in the care and eventual release of rehab birds.
High school and college students looking for credits or experience in the wildlife field are always welcome.
We do our best to make volunteering at Horizon Wings a fun and educational experience. We especially need volunteer help in the Spring, Summer and Fall.
Please fee free to contact Horizon Wings to schedule an appointment.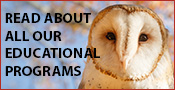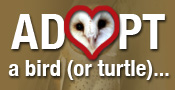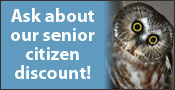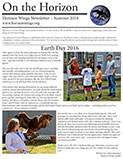 Download our newsletter, On the Horizon, for more information regarding our programs, events and how you can help.