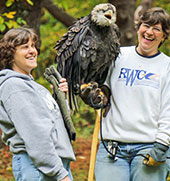 Mary-Beth (L) with Atka, Horizon Wings; bald eagle; and Jeanne (R).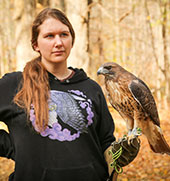 Brenda and Patrick, Horizon Wings' red-tailed hawk.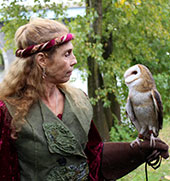 Patricia and Silo, Horizon Wings' barn owl.
Events Calendar
Horizon Wings does a number of public programs throughout the year. We are also available for programs to private organizations and individuals.
We'll be posting more events soon, so visit often, and we look forward to seeing you at one!
June 2017
June 3, 12:00 p.m. to 4:00 p.m.
Catherine's Butterfly Party
Fairfield Hills Campus
3 Primrose St Newtown CT
June 3, 1:00 p.m.
Storrs Adventure Park w/Atka
2007 Storrs Rd, Storrs, CT 06268
June 17, 3:00 p.m.
New Britain Public Library
20 High St, New Britain, CT 06051 Phone: (860) 224-3155
June 21, 6:30 p.m.
Portland Library
20 Freestone Ave, Portland, CT 06480 Phone: (860) 342-6770
June 24,
Windham Free Library
Threatened and Endangered, 107 Windham Green Rd,
Windham, CT 06280 Phone: (860) 423-063
June 28, 6:30 p.m.
Edward Smith Library w/Chrysos
3 Old Post Road Northford, Ct 06472 203-484-0469