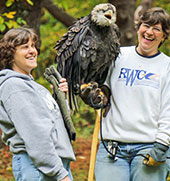 Mary-Beth (L) with Atka, Horizon Wings; bald eagle; and Jeanne (R).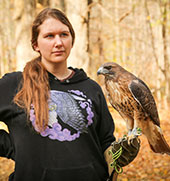 Brenda and Patrick, Horizon Wings' red-tailed hawk.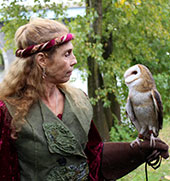 Patricia and Silo, Horizon Wings' barn owl.
Events Calendar
Horizon Wings does a number of public programs throughout the year. We are also available for programs to private organizations and individuals.
We'll be posting more events soon, so visit often, and we look forward to seeing you at one!
January 2018
January 21nd, 10:30 a.m. & 12:00 noon
Shepaug Dam w/eagles and a surprise bird!
Reservations are needed for the dam, please call to make your reservations.
(800) 368-8954

January 27th, 1:30 p.m.
Whitney Center w/Eagles
200 Leeder Hill Rd., Hamden, CT