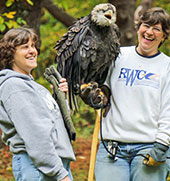 Mary-Beth (L) with Atka, Horizon Wings; bald eagle; and Jeanne (R).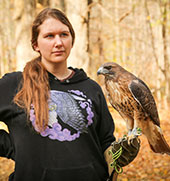 Brenda and Patrick, Horizon Wings' red-tailed hawk.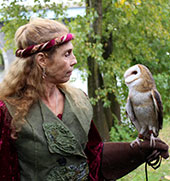 Patricia and Silo, Horizon Wings' barn owl.
Events Calendar
Horizon Wings does a number of public programs throughout the year. We are also available for programs to private organizations and individuals.
We'll be posting more events soon, so visit often, and we look forward to seeing you at one!
July 2017
July 8th, 10:00 a.m.
July 14th 11:00 a.m.
Dudley MA Library
40 Schofield Ave, Dudley, MA
July 15th 11:00 a.m.
Babcock Library, Ashford w/Atka
25 Pompey Hollow Road Ashford, CT
July 19th 2:30 p.m.
Cheney Library, Manchester w/Atka
586 Main Street, Manchester, CT
July 20th 6:00 p.m.
Thomaston Library
248 Main Street, Thomaston, CT
July 26th 10:30 a.m.
Sprague Library
76 Main Street, in the Grist Mill Baltic, CT