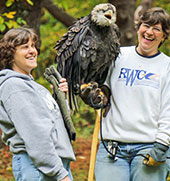 Mary-Beth (L) with Atka, Horizon Wings; bald eagle; and Jeanne (R).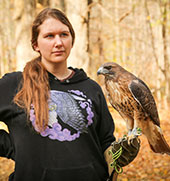 Brenda and Patrick, Horizon Wings' red-tailed hawk.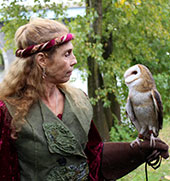 Patricia and Silo, Horizon Wings' barn owl.
Events Calendar
Horizon Wings does a number of public programs throughout the year. We are also available for programs to private organizations and individuals.
We'll be posting more events soon, so visit often, and we look forward to seeing you at one!
APRIL 2017
Apirl 10, 6:00 pm
Bird Brains @ the Chaplin Library
130 Chaplin St,
Chaplin, CT
April 12, 10:00 am
Horizon Wings @ Sterling Library
1183 Plainfield Pike,
Oneco, CT
April 22, 10-3pm
HORIZON WINGS OPEN HOUSE EARTH DAY
9 Sand Hill Rd,
Ashford CT
For more information email: horizonwingsraptorrehab@gmail
April 23, 1pm
Bald and Golden Eagles @ Cherry Blossom Festival
Wooster Square
New Haven,CT