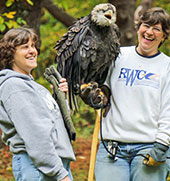 Mary-Beth (L) with Atka, Horizon Wings; bald eagle; and Jeanne (R).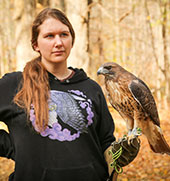 Brenda and Patrick, Horizon Wings' red-tailed hawk.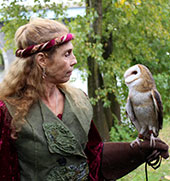 Patricia and Silo, Horizon Wings' barn owl.
Events Calendar
Horizon Wings does a number of public programs throughout the year. We are also available for programs to private organizations and individuals.
We'll be posting more events soon, so visit often, and we look forward to seeing you at one!
August 2017
August 4th, 11:00 a.m.
E Norwalk Public Library w/ Atka
51 Van Zant St, Norwalk, CT 06855
August 7th 6:00 p.m.
Wethersfield Public Library w/Atka
515 Silas Deane Hwy, Wethersfield, CT 06109
August 12th 10:00 a.m.
Tolland County 4-H fair
24 Hyde Ave, Vernon CT
August 15th 10:30 a.m.
Wee Wings @ Wheeler Library
101 Main St, North Stonington, CT 06359
August 16th 10:00 a.m.
Scranton Library w/Atka
801 Boston Post Rd, Madison, CT 06443